As teleworking has become the inevitable option for the continuation of our economic activities this year, Hello Escape has rethought its concept of classic team building to offer you an innovative concept of online escape game.
---
As teleworking should not prevent team building, our teams have been keen to integrate remote team building events. If the organization of remote team building is different from that of face-to-face team building, its animations remain similar. Each Hello Escape game immerses your employees in an original universe. They follow an entertaining scenario that leads them to solve enigmas, alone or with others, in a limited time.
---
Your employees will be able to develop their team spirit even in videoconference and thus increase their sense of belonging.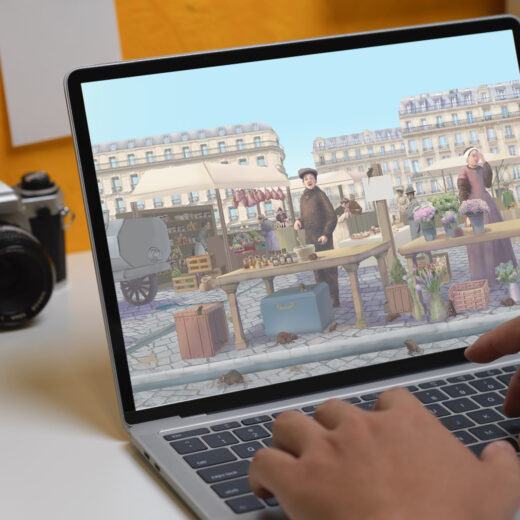 Format
Prerequisites
One computer per person and a video conferencing system (Zoom, Google Meet, Teams…)
Teams
3 to 6 players per team simultaneously (unlimited number of teams)
Animation
One or more Hello Escape facilitators brief and assist participants
Duration
15 minutes briefing and about 1 hour of play
Course of the game
1
Distribution
Constitution of the teams
2
Videoconference and briefing
Sharing the videoconference link and explaining the gameplay
3
Game
Solving the riddles and calling on the facilitator if necessary
4
Results and ranking
Display of the score of each team at the end of the game
TURNKEY GAMES
Mission

Edith Loiseau, the famous singer of the cabaret Chez Colette, has been missing for many weeks and the investigation has reached a dead end. In the Paris of the Belle Époque, you will have to lend a hand to Detective Lebon to help him get out of the most perilous situations and find Edith's tracks.

Teams

Up to 50,000 players divided into groups

Duration of the game

Between 1h and 1h30
The benefits
of the digital escape game
Build team spirit

In a changing business climate and volatile market, it is important to strengthen the bonds between employees. With us, your employees learn to work together. The game encourages listening and synergy between them. It is conceived as an integration tool capable of developing the company's culture.

Improve performance

Our games are designed according to your objective: to encourage competition, to stimulate initiative or to develop self-confidence. It has always been proven that a person retains better what he/she practices than what he/she learns in theory.

Solve internal problems

Tensions can arise within the company and be a source of deadlock. Organizing an escape game allows you to resolve conflicts by learning to manage stress and encouraging cooperation among your employees.

Motivate employees

Hello Escape allows you to unite your employees around the values of the company, to encourage mutual aid and to create teams.
OUR SERVICES
Hello Escape
All our escape games are tailor-made
We offer physical and online escape games
Our games can be made in several languages (French, English, Spanish, German, Italian…)
One or more especially trained game masters come to animate your events
For each Hello Escape game, we can create a personalised teaser for your company
The stages of design
1
Definition of objectives
We define with your company its educational and multidisciplinary objectives. We accompany you in the construction of specifications to develop a relevant and effective game.
2
Proposal
We create a scenario tailored to the values of your company and the repository of skills to be observed, jointly set up. A first draft is then submitted to your appreciation.
3
Elaboration
Once the project is validated, we develop custom-made puzzles, from the introduction to the final. In our Parisian workshops, we design all the necessary elements for the creation of the game, without any subcontracting.
4
Beta test
A battery of tests is organized to ensure a smooth game (validate the ergonomics, the scenario, the puzzles, and correct the bugs).
5
Delivery
Your tailor-made or turnkey escape game is delivered to you. All you have to do is play!