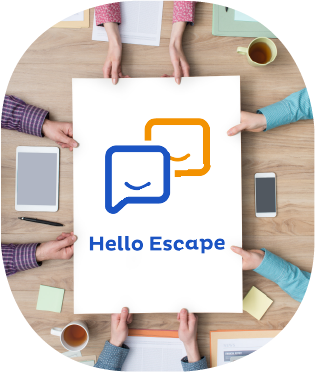 With our wealth of experience in the creation of innovative escape games, amongst the most renown and highest ranked in France and further afield. We, Hello Escape, launched onto the market in 2020 with the central objective of designing tailor-made events for companies and groups of individuals.
Hello Escape exists to assist you in the development of the commitment and well-being of your employees through the enjoyable and educational events we organize.
Our services can be adapted to any type of event: from company parties to integration, product launches or team building. Depending on your objectives, they are available in full-scale or digital versions (accessible from anywhere, on smartphones, PCs or tablets).
Finally your united teams will leave our site feeling fully engaged and with a sense of success and fulfilment.
The advantages of Hello Escape :
Several years of experience in designing escape games: our team is made up exclusively of people who are passionate about puzzle games and who already have a track record of designing the best-rated escape games in France.
No subcontracting: our escape games are designed directly at our headquarters in Paris, a few minutes from the Place de la Bastille. We create all our projects entirely in-house: concept, design, manufacture of sets and mechanical elements, etc…
Comprehensive expertise: Hello Escape is fortunate to have a multidisciplinary team of experts with complementary skills (architects, designers, engineers, organisers, decorators, etc.). Thanks to their commitment and creativity, our motivated team, passionate about creative engineering, will contribute to the success of your event.
Constant renewal: with Hello Escape, no two games are alike. We invest ourselves every day in our scenarios, puzzles and settings. Each creation is unique and adapts to your company's field and values. Today we have one of the most competitive logistics thanks to a continuous diversification of our projects.
The values of Hello Escape :
Sens of service :
Hello Escape is committed to designing escape games with involvement and responsiveness. We put all of our engineering and know-how at your service in order to support you as effectively as possible in the valorization of your development objectives.
Open-mindedness :
The organisation of a company is constantly evolving, which is why Hello Escape places particular importance on listening to you in order to adapt its system and its offer to the markets of tomorrow. We are keen to establish a fluid and transparent dialogue with all our clients and partners in order to help them anticipate changes and to be part of a dynamic of progress.
Ambition :
At Hello Escape, we are convinced that a company's growth and durability can only be achieved through the valorisation of its intangible capital and its commitment to its employees. For you, we see far ahead, and believe that looking after the well-being of your employees today [by creating events that allow them to flourish] is a responsible investment and management for tomorrow.